The Sacrament of First Reconciliation and First Eucharist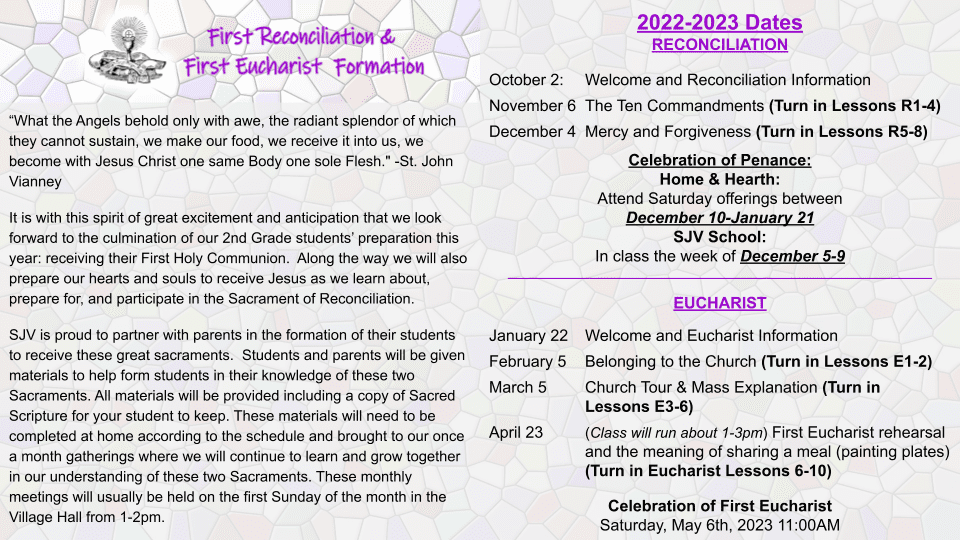 It is truly a special time in a child's life when their faith makes them ready to receive the Body and Blood of our Lord, Jesus Christ. The first reception of the Eucharist happens for our 2nd Grade students in our SJV Parish and those in our school who wish to celebrate their First Eucharist here.
Recognizing the importance of true communion with Jesus, students are first prepared for the incredible Sacrament of Healing: the Sacrament of Reconciliation.
This helps us to recognize the obstacles sin presents to us and our relationship with God. Using the graces and forgiveness received in this sacrament we can then confidently make our approach to the altar and receive the Body, Blood, Soul, and Divinity of Jesus in the Eucharist.
We are proud to partner with parents in the formation of their children for these very special sacraments.
Registration for The 2022-2023 Sacramental Formation Classes Is Currently Underway!!!!
For questions or more information please contact:
Jim Hurst | Office of Evangelization and Catechesis-Youth
St. John Vianney Parish
4101 Clyde Park SW Wyoming, MI 49509
p 616-724-3123| f 616-530-8224
e jhurst@stjohnvianney.net